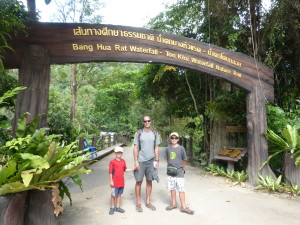 We just left Khao Sok National Park, said to be earth's oldest rain forest. More biodiverse than even the Amazon Rainforest, we got to see all sort of amazing plant species and even a few animals that we didn't expect.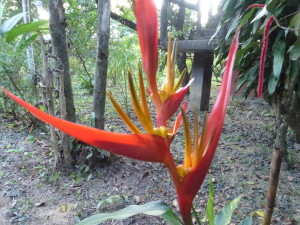 The ride into the park was fascination enough.  Along the way, in addition to plantations of tropical fruits and small wooden homes, we saw plantations of rubber trees used for rubber-making and palm tree plantations for harvesting palm oil.   The mountains ranges around us and the exquisite scenery on the ride made for one of the most breathtaking van rides of our journey so far.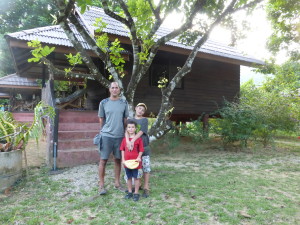 We stayed three nights at the Morning Mist Resort, a beautiful area with small bungalows scattered throughout a jungle like setting.  Our bungalow was simple (read, rustic) with nothing more than a couple of big beds covered by mosquito nets.  But for the price, we couldn't complain.  (After all, we had our own bathroom! )  The front porch had a couple of comfy chairs overlooking the lush grounds and beautiful mountains, and the hotel even had a pool.  It turns out, though, that there is too much to do in the park during the day to spend much time at our hotel anyway.   We were always off exploring.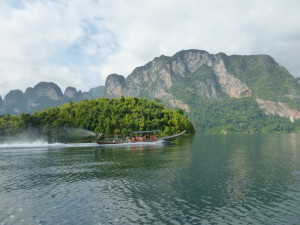 One day we went to Ratchaprapha Dam and Khao Sok Lake.   The lake is a reservoir built by the current king in the 80's to help control water flow during the ever changing Thai wet and dry seasons.   The 180 square kilometer lake is in the middle of a huge National Park of about three times the size.  Surrounded by tall cliffs, the fresh clear water made for a beautiful longtail boat ride.  We rode across the lake to a hiking trail where we hiked up and back down to another lake.  From here, our group piled onto a motored bamboo raft to the other side where there is a beautiful cave, Coral Cave.  The stalactite and stalagmite formations in the cave were incredible.  Our guide explained that the cave was discovered only 15 years ago and its beautiful formations have made it a destination point for geologists around the world.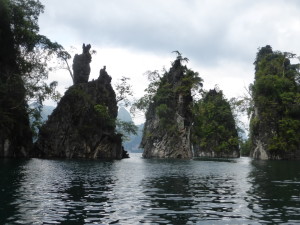 We did quite a bit of hiking during our few days here.  We opted for some of the easier hikes but as it turns out, there was plenty to see.  There were all sorts of amazing plants (even latex! – I hadn't even thought about where latex comes from), the loudest cicadas, and some of the largest bugs I've ever seen.  The boys were most excited about the tarantulas and a three horned dragon lizards.   Yikes!   Did you know that tarantulas live in holes in the ground and some species even have a covered hole with a flap that virtually hides the hole?  Luckily though, they are nocturnal and kept in their holes.  That was fine by me.
Our last day, we did a long hike to a waterfall.  Meandering along the trails, searching for lizards and bugs, we never did find the waterfall.  But we did find a couple of amazing river swimming holes that we couldn't resist cooling off in.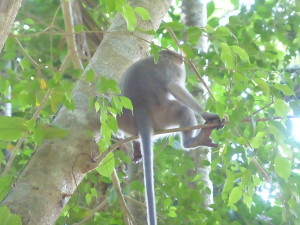 That afternoon was the final highlight.  Walking back to our hotel from the entrance to the park, we saw monkeys!  Dozens of them surrounded us in the trees.  They were all ages and sizes; older grey ones, young ones and even a baby or two.  Some of them were more cautious of us than others, but for the most part, they paid us no mind as they clambered around in the trees.  And a couple fearless ones made their way down to the unlocked garbage can in the road just ahead.
Khao Sok National Park was not originally on our itinerary but finding ourselves with a couple extra days, we looked for a stopping point to break up the trip between Thailand's east coast on the Pacific Ocean and the Andaman Sea on the west coast where we will be spending Christmas.   I had heard stories about excessive rainfall, clouds of mosquitoes, and even leeches so I was skeptical but we all decided to give it a go. In the end, we saw none of that.  Thailand has a lot to offer in terms of culture and beaches and I am glad that we were able to also include this very lush and scenic rain forest into our trip.
I couldn't resist adding a few more of my favorite photos: