Our last day was filled with happiness and excitement, and it was very complete.We first went to the local fortress, then the amazingly small country of San Marino, and for lunch in between we went to see our cousins for the last time. Our last day on the trip was very fun.
First we drove to the castle of La Rocca, where we met my tall cousin twice-or-thrice-removed, Fabio. We walked under an arch with Fabio to the inside of the castle. All of us got an audio guide to share and then traveled around the fortress. We stood on top of the towers and circled around the balcony. The towers are high and majestic. It was built as a duke's fortress, controlled by Urbino. The castle has prison caves, rooms with gorgeous views for the duke, and an area for the militia to assemble.
Then my dad and I went to lunch after saying goodbye to our cousin.
For lunch, we enjoyed delicious pasta at another cousin's house.We saw all our cousins one more time, than got on the road. In the middle of the 4-hour drive, we stopped for a break in San Marino, which was beautiful!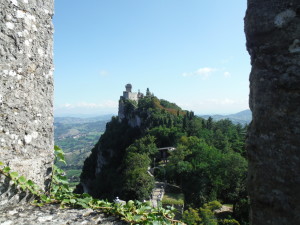 San Marino is a tiny, independent country on the north border of Marche. San Marino (city), San Marino (country) is a city on top of a mountain, with many very old towers and castles. We looked at the majestic view from on top of the mountain and had some chocolate chip, white chocolate, and cream gelato, before driving the rest of the way to Milan, where we would spend the night and then get on the plane to Portland.
We got the most out of our last day in Italy. If we hadn't, I would have felt that I missed something. As it is, my dad and I had a fabulous last day. We even were able to add country #25 to our list