For the past three days, I have been a tourist.  Not just any tourist.  One of THOSE tourists.  The kind who go to exotic places and spend a whole week lounging by the pool with their beer belly for company never leaving the resort.  Well, perhaps they leave the resort once to do an all inclusive "See Thailand in one day" tour – A packaged tour including island sightseeing, elephants, tigers, waterfalls, scenic vistas, a temple or two and ending with an evening of Thai dancing for that extra little bit of culture.  But, for the most part, they don't leave the comforts of the pool lounge chair and expensive resort living.
We arrived in Koh Samui four days ago, and I was immediately blown away by the prices.  While I am sure they are simply prices aimed at tourists who don't have any trouble paying that kind of money for their one week holiday, they were sticker shock for us travelers.  The taxi to our hotel which should have cost less than $6, was up around $20.  Yikes.
We had booked a hotel on agoda.com knowing that we were hitting high tourist season.  Also having heard that Koh Samui was more expensive than many other places, we splurged on a resort sight unseen for the four days located on the beach with a pool.  While the place is beautiful, day to day resort prices just lead to my sticker shock.  Drinks for $12?  Ice cream for $6?  Crazy!  These are worse than prices at home!
The first evening, we headed into the Fisherman's Village.  A cute little strip of restaurants and shops just a five minute walk from our hotel.  I was thrilled that we were going to see some of the area outside of the hotel.  The restaurants were lovely – Mexican! Italian! Thai! Seafood!  So much good stuff yet at crazy high prices!   Seriously, $66 for a set menu for two?  Wowza!   Don't get me wrong.  We love good food and would likely pay this for a good meal back home in Portland, but after 4 months in SE Asia, these prices are crazy high.  Food doesn't cost this much here.  It was simply marked high for tourists.  My spirits were dampened.
Our initial Round-The-World travel schedule had been to do a lot of traveling for three months and then spent most of December exploring the islands of Thailand.  It all sounded very exotic at the time but suddenly, with only a day or two under my belt, this Type A personality was already starting to get anxious.  Panic set in.  Could I really do this type of tourist living for a month?  What about those friendly guesthouse proprietors, roadside vendors and store owners we had grown to love, greeting us with a smile and stooping down to chat with the kids?  The mentality around us had changed.  We had entered the world of "kids menus."    It didn't feel right.   Was this idyllic life what I had wanted?   Could I do it?
For the first several days on the island, even the beach was disappointing.  The rainy monsoon season brings high wind, strong waves, and lots of beach debris.  The lack of much sun and the clouds didn't even make the view as scenic.  The sand outside our resort is so coarse, there was no building of sandcastles, the water was murky, and the debris (mainly seaweed, sticks, coconuts, and some assorted trash) made walking the beach something you had to be vigilant about.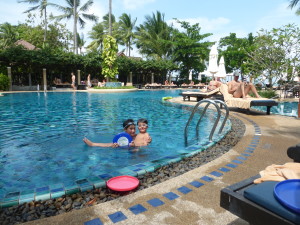 Just like the other tourists here, we all swam a lot, played a lot of cards, read several books each, and enjoyed the rest and relaxation.  Lorenzo wrote a blog post, I sorted photos and Nathan and I even got in a couple bar drinks.  We were proper tourists.
I even finally started reading a parenting book that I downloaded almost a year ago, titled Simplicity Parenting.   And, guess what?  I got a good chuckle out of the fact that for the first time ever reading a parenting book, I learned that I am doing a lot right.  Declutter your life, turn off the tv, spend more time with your kids, read together, play together, learn together, don't have too many toys around, etc.   I laughed as this year, I could have written that book.
The kids were having fun at the pool (we all were) but finally, we decided we'd head out to the other side of the island to get out and see something.   We researched where to go – temple? Waterfall? Beaches?  What to do and see?   Koh Samui is a big island, and we've heard the taxi system here is run by a sort of mafia which means costs are quite high and fixed.  We decided we'd make the plunge.   But, after a heavy rain storm Friday night, we woke up to an amazingly beautiful day Saturday.   The beach outside our hotel was magnificent.  The weather was beautiful and the waves calm.  We couldn't resist staying and spending our last day on Koh Samui close to the resort.
So, we whiled away our last day on Koh Samui as tourists.  We found some lounge chairs on the beach and spent the day frolicking in the water.  The boys played for hours in the surf, jumping around, laughing, hanging on each other, body surfing the small waves and then diving back in.   Nathan and I got in some reading in between cooling off in the nice refreshing water.
When we got hungry, local vendors would arrive with delicious chicken skewers, fresh green papaya salad, spring rolls, and any fresh tropical fruit you could imagine.   The first few days, we had snacked from a lady who carried her food and grill balanced on a pole over her shoulder.  The prices were reasonable and the food tasty.  Today, right in front of us, a young man paddled up on his boat.  This man sold similar stuff – a grill with chicken, shrimp, corn on the cob, spring rolls, etc.  And for dessert – fresh mangoes and pineapple sliced up while we waited.  Yum!
Still feeling bad that hadn't seen more of the island, I was thinking that we didn't do well by Koh Samui, when an older French couple stopped us to tell us that they had been watching the boys play in the sand the entire day and were so delighted watching them get along so well.  We should, they told us, be very proud of them.
Only an hour later, my six year old invited me to snuggle in some chairs overlooking the ocean, listening to the waves, to eat our bananas together and read.  "Doesn't that sound like paradise, Mama?"
For many months, we have gotten up each day in different surroundings making the most of each new place.  We have learned so much about each place as travelers instead of tourists, while still on some level only scraping the service.  There are so many types of travelers.
Today, we leave to spend a week on Koh Phangan, another beautiful palm tree laden island just north of here.  And, I plan to get back to being a traveler again.  Our hotel there is much simpler, and we've heard Koh Phangan is more laid back.  And the good news is that there are also waterfalls, temples, islands and waves to explore.  And maybe we will.  J
Embarrassed as I am that we didn't see Koh Samui, that we spent the whole four days here as tourists in our own little resort, I suppose we all needed the break from learning and doing.   After all, there were bananas to eat and snuggling to do.