Today was one of those fill-up-your-heart kind of days. 
We had the opportunity to visit the Children's Foundation Shelter run by Joy's House about 40 minutes north of Chiang Mai.  It is a haven and home for children in need.  Started as a home for deaf, mute or ill children, it is open to any children in need of a home – street children, orphans, or underprivileged children.   The 3.5 hectare farm has something for everyone and is focused on becoming completely self sufficient.   They work hard at helping give the children life skills that they can take with them as they make their way in the world. 
The children who live there now range in age from 7 to 17.  They all go to school during the week and help on the farm on weekends.  The children learn skills ranging from farming, music, cooking, English, sign language, tourism, and a multitude of other skills that they can take with them.The farm is run by a couple of full time staff, a couple of families who help with gardening and livestock, many volunteers, and a whole lot of love. 
When the children graduate from the Shelter, they are all given the opportunity to work at Joy's House, a beautiful guesthouse about 15 minutes north of Chiang Mai's city center.Here, they can learn hospitality, hotel work, teaching, cooking, serving, and much more, for a fair wage and a home.  During the complicated time of late adolescence, the children retain their home environment within the extended family at the Joy's House.  Even the bartender here is deaf, but guests can simply point to the drink of choice on a menu.Started by a Thai woman and a German woman in 2007, the Children's Foundation Shelter and Joy's House Guesthouse in Chiang Mai has given hundreds of children a new start and new opportunities.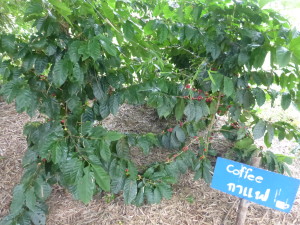 We left Joy's House late morning, arrived shortly before lunch, and started with a tour of the large farm.  It was fun to have someone explain the difference between fruit trees, tour all of their gardens and farmland, see coffee plants full of ripe coffee cherries, and relax among it all.  They even have a coffee shop compete with a small shack, three tables, a couple kids and a coffee brewer.   We went there first and visited with a couple of the kids and four German volunteers who are taking a few months out of their gap year to volunteer with the children. 
From there, we were invited to join the children for lunch.  As you can imagine with a group this size, the kids line up with their plates in a type of organized chaos.  Before anyone started eating, a long Buddhist blessing was said in both Thai and in English to express their thanks for their food.  Today's lunch was fried noodles with meat and veggies, and there was plenty for everyone.  Most kids went back for seconds.  We even had dessert – bananas cooked in coconut milk.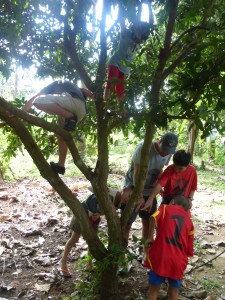 After lunch was a tour of the facilities.  We saw the girls' rooms, the guesthouses, the large chicken pen, more farmland, the boys' bunk area, as well a covered areas for projects.  All the while, children followed along with us to practice their English, climb trees and point out bugs.  Some children were goofy and chatty and some simply wanted to be with us.  It is a big place, and I was surprised to learn that right now, there are only 17 children.

The tour continued.  There was also a large volleyball net, a ping pong table, and my favorite…. The Library.   In my opinion, the library was the nicest building there.  Completely open air, it had a large front porch for lounging, tables inside for playing games and the whole bark porch was just one large wrap around bench.  This is where we whiled away the afternoon.The kids are serious about reading and studying English, and there were plenty of books to go around.  My family and the four German volunteers all paired up with one or two children and read together.  The older girls practiced reading aloud in English, where as the younger ones preferred to be read to.  Our boys read with us a bit but soon started games with some of the other children – dominos, mancala, puzzles, Jenga, etc.It was beautiful to see everyone included and having fun.One of the best parts about traveling with kids is that they don't care about the language.  Somehow, kids just play.  And laugh.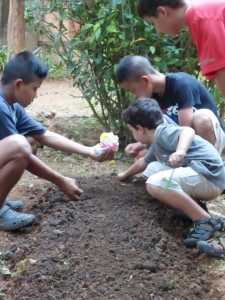 After a few hours in the library, we were asked to help with some planting.  The older boys were hard at work tilling up rows of dirt for planting, and the little ones were helping as best they could.  We helped the other volunteers and a couple kids bring back compost, and my boys helped with the planting and watering.  It was lovely to be working together and to feel like I was contributing a little to the foundation. 
We had a little bit of a break before dinner and my boys choose to invite a couple of the kids down to the lake to play for a bit.   There was a homemade zip line stuck half way across the small lake so we all laughed as the kids tried to figure out how to retrieve.  Finally, one of the bigger boys made his way across sloth-style.  There was a lot of laughter as everyone tried to give advice and directions. 
The kids were by far the best part of the day!  They are so lovely, so happy, and so welcoming.   I know they have many guests each week and yet, somehow, we felt welcome and special the whole day.  Every one of them introduced themselves to us when they saw us, and many of them surrounded us all throughout the day.
The day ended on an equally high note.   The four of us were asked to stand in the middle of a small circle.  The children, the staff, and the volunteers all gathered around and sang "True Colors" to us.  Many verses of the song were sung (and signed) by all the children, and it was so lovely and moving that it brought tears to our eyes. 
What a fantastic and beautiful group of children.The children each guided us to our car, and we pulled away from the farm with the children waving.  I miss them already.