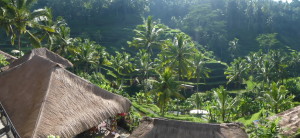 Some days are just the type of days that fill me up and remind me why we are doing this.  Yesterday was one of those days. Bicycling through the Balinese countryside with new international friends, stopping to visit the homes of smiley locals, learning about rice cultivation and irrigation, taking a break to eat a locally grown banana under a 500 year old banyan tree … I kept thinking THIS IS IT. This is why we did it-  why we sold almost all our material possessions in order to set out and give our children the world.
There have been many days of wonder, learning and adventure on this trip. Many. But, for some reason, this day stood out. This. Being with my family on exactly this type of adventure is what I hoped and planned for us. It was perfect.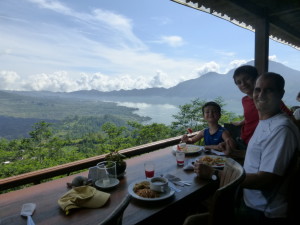 Eating black rice coconut pudding for breakfast on the edge of a crater, looking out over the crater's lake. This. Stopping to visit a tropical spice farm, seeing the local coffee roasting process, and finally getting to taste Luwak coffee pooped by a Civit Cat.  (I know you are jealous, right?)
Riding downhill past layer of layer of rice paddies with the wind blowing through our hair, smiling and waving to the children who run to the road to shout "Hello!"  This. Stopping to tour a local Balinese home compound to see how the generations all live and work together, with an amazingly friendly guide who answered each and every question we had on Balinese lifestyle (I now know what a teeth grinding ceremony is), religion (Balinese Hinduism is a beautiful combination of Hinduism and Animism), and local customs. The day was so full of excitement, wonder, learning, local history, culture, new friends (our group consisted of several families from Australia and Sweden), and lots of smiles all around.  It sums up travel for me, and more than once I was choked with emotion of it all. This. Is. It.
Let me share just you a few of the highlights.
Then, on to Coffee Tasting
The Ride Begins!
Visiting a Family Home Compound
The People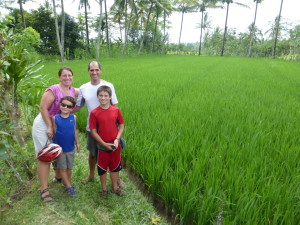 Finishing The Ride:
Thanks for sharing my day.  As always, it is fun to share some of these memories with you all.  (And a big Bravo to Bali Eco Cycling Tours for an amazing day all around!)