A Singapore favorite for sure was the day we hit the beloved Singapore Zoo.  A highlight that Nathan and I remembered from our trip many years ago, we were not let down.
The borderless boundary system made it feel as if we were really walking in the wild, just feet from many exotic animals.  The Singapore Zoo does not have cages.  Many animals are simply on islands or on the opposite side of big open ravines.
In a few places, the animals were in big open aviaries and the spectators were down underneath in a glass room looking up. I actually got the impression that it was the people in the cage instead of the animals.
In the primate area, the monkeys, gibbons, and other primates were swinging around the trees and structures high above us.  A treat for sure!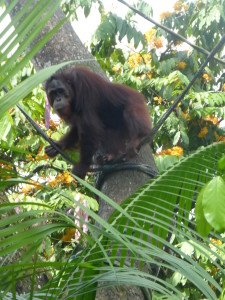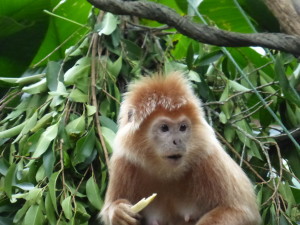 Our family's favorite was the Fragile Forest, a massive biodome with a 20,000 cubic meter flight area filled with the rich biodiversity of the rain forest.  We walked *this* close to sleeping and eating fruit bats, ringtail lemurs ("I like to move it, move it!"), a mama and baby sloth, mouse deer, crested pigeons, and a whole gamut of other amazing animals.
An enjoyable day.
As a side note:  One of the disappointing thing we saw at the zoo, however, was that they offered elephant riding.  After our one week volunteer experience with elephants in Northern Thailand, this bothered us so much that Lorenzo was inspired to write a letter to the zoo to express his feelings.  Please watch for his upcoming post.