Today was one of those magical fill-me-up types of days.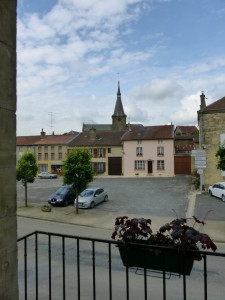 Waking up under my fluffy down comforter to the sound of the local church bells ringing 7 o'clock, I turned over and went back to sleep for a bit before remembering that I was in Buzancy, a tiny hamlet in the French countryside with a population of 382.  We had originally thought we would perhaps explore nearby Luxembourg or some local sightseeing attractions.  But after breakfast at our charming hotel of delicious fresh croissants and homemade jams, we changed our plans to a family hike in the countryside. 
We had a map outlining an 11kilo hike along a canal and through some local villages starting in the nearby town.  Stopping to pick up local provisions of fresh baguette, cheese, pates and wine, we loaded up our backpacks and set off. 
The hike was magical.  It ran all along a canal which, they said, has over 29 locks.   The long paved path alongside the canal quietly ran past field after field.It went past quaint homes, many of them former homes of the lock controllers now boarded up.There were no other walkers – only us, strolling along, admiring the wildflowers, watching herons glide along the water's surface, and greeting the cows in the field.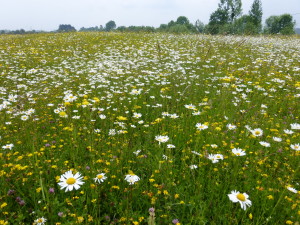 At one point, we climbed a small hill to find a whole field of wildflowers blooming.  The boys quickly asked if we could take a break here.  Heck, yes!  We all felt inclined to sprawl out in the field to admire the flowers.  What a magical moment, laying back and listening to the sound of the flowers alive with bees.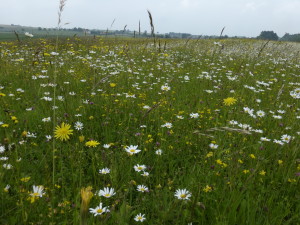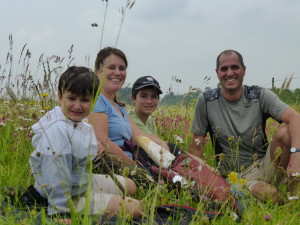 We continued on our hike, stopping to discuss the numerous locks and wondering if we would ever see any boats on the canal. Instead we saw no one. It was as if the whole countryside was reserved for us.  As if the world knew that we had spent way too many days in fantastically huge cities and needed to be back in touch with trees, flowers and birds.We ate it up and appreciated every moment.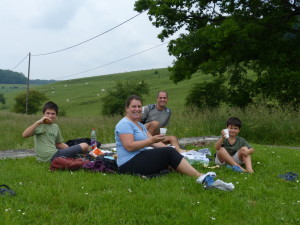 After a couple hours, we had decided not to push the boys too far; instead, we just plopped down on the lawn next to one of the locks and dug out our picnic lunch.Baguette, cheese, pate and wine have never tasted so good.Gradually, the wine and warm sun made us sleepy, and we all laid back on the grass to rest and read.  
It was an ideal day in France.  And it was a perfect day of family.