Italian food… The word conjures up images of perfect pizzas, super soups, preposterously tasty pastas, brilliant breads, and great gelato. Italian food is mouth-wateringly delicious. Crazy fact: Italy went without tomatoes until the Americas were discovered. Then the tomatoes and seeds were exported to Europe. Imagine Italy without tomatoes!
Breakfast:
Normal breakfast: Croissant and coffee at a bar.
Lunch or dinner:
Appetizer:
Prosciutto and melon: Italian ham on melon.
Olivi ascolante (breaded olives): Delicious appetizer. They can be either green or black.
First course:
Pasta: Cooked wheat or egg and wheat noodles with scrumptious sauce of your choice on top, with Parmesan cheese on top. Warning: Putting Parmesan on seafood pasta is strictly forbidden in Italy, and if you don't want to silently yell "I'm a tourist" than avoided doing that.
Pizza: Flat baked dough with tomato sauce, mozzarella cheese, and toppings of your choice.
Pane (bread): Deliciously crunchy hard bread, with a completely different shape and texture than American bread. Generally baked with very few ingredients, sometimes only flour, yeast, and water. Personally, I prefer Italian over American bread.
Zuppe (soup)
Insalata (salad)
Second course:
Meat: Beef is the most popular meat in Italy, followed by chicken, then pork, wild boar, and rabbit.
In Marche, where we are now, they eat a lot of pesce (fish)
Dessert:
Gelato (ice cream): A creamy, smooth ice cream. Not really meant for a cone, as it melts easily and is prone to fall off.
Torta (cake)
Frutta (fruit)
Drinks:
Caffé (Coffee): Italian coffee brands such as Illy, Segafredo, and Lavazza rule the market here. Italians know good coffee.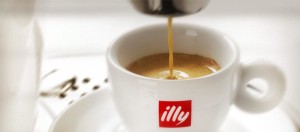 Fanta: You know the fanta in the U.S.? I personally think it's way too sweet. Here they make fanta with sparkling water and sweetened orange juice. In the rest of world they make it with artificial orange flavoring.
Acqua frizzante (Sparkling water): In Italy many people drink sparkling water, more than people do in the U.S.
    Italian food is delicious and it's my favorite cuisine. It's healthy, flavorful, and rich. I strongly advise you to try it. I would be amazed if you didn't like it.