Today we went white water rafting through the Balinese rain forest.  What a rush!  While never quite sure what you are signing up for in SE Asia, we asked around town, looking for something unusual that we haven't done before and decided rafting sounded fun.
Rejeki Ayung Rafting company picked us up at our little place, taking us for a 20 minute drive into a Balinese village surrounded by rice patties where we met up with our rafting guides.  There, we suited up in life jackets and helmets and with our paddle, traipsed through rice patties, past durian trees and coconut palms, and more than 250 steep steps down to the river.
The guides readied the rafts and we jumped in…. straight into some serious class 3 rapids.  Wowza.   Our group was three boats and our trusty friends sure helped make the experience fun.  We bounced down Ayung River with an Australian family and an Indian couple on their honeymoon taking opportunities between rapids to cool each other off.  The guides themselves didn't speak English well but as they didn't really intend for us to paddle too hard, it worked out fine in the end.   Unlike at home, they often took over the paddling themselves and instructed us to just "Hold On!" We didn't want to argue with that.
The rafting company we signed on with got great reviews on TripAdvisor mainly due to the fact that their raft trip is a full 12 kilometers with some of the biggest rapids upstream from where all the lesser raft companies put in.  On hindsight, for the kids' first raft adventure, this might not have been prudent.   Nothing like jumping into the fire with two feet.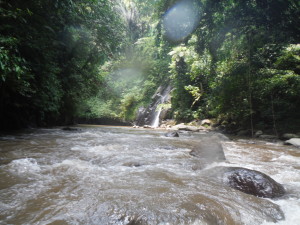 What a rush! The kids had never before been white water rafting because at home in the U.S.,  there are minimum ages before which you are not allowed to subject young kids to the thrill of rafting down waterfalls and being thrown from boats.  And, unfortunately, within the first 20 minutes, this is what precisely what happened to Lorenzo and me on a particularly wild one.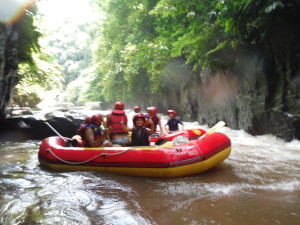 Elio was having a blast, going down the rapids with his arms in the air as if strapped in on a rollercoaster.  Lorenzo, however, after being thrown from the boat early on, was not too keen on the whole experience and it took a while for his nerves to calm down.   While we all got excited about the series of 45 thrilling rapids, the other true highlight was the 12 kilometers of unspoiled jungle, coconut trees, magnificent waterfalls, and even some rock carvings along the river.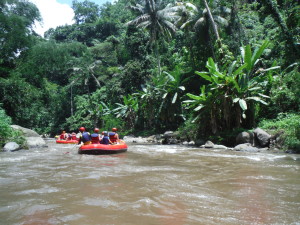 I am afraid that I didn't look up too often as I was usually concentrating on the river ahead, but when I did, we saw colorful birds and even a family of monkeys.  Even Lorenzo warmed up to it all, commenting how the other groups which put in later wouldn't get to do the fun big ones that we did.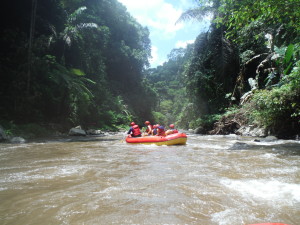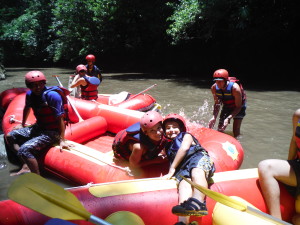 We even stopped at a waterfall to take photos!
After a couple of exhilarating couple of hours on the river, we pulled over at the end.  Before realizing what we'd still be faced with similar steep stone steps on the way back, we headed up. Not for the faint of heart in this hot sticky climate called SE Asia, the steps took a while to climb.  (An elevator or even a funicular would have been nice.)  Luckily, at the top, we were rewarded with cold showers, fresh towels and a buffet lunch.  What a day!