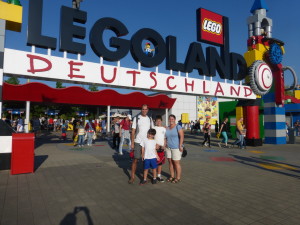 Legoland is the name of an amazing amusement park. We have now gone to two! There are six Legolands around the world, though the two we went to had the same rides. This visit in Germany was spectacular and definitely worth doing. Our one long day at Legoland was packed with dazzling sights and thrilling experiences.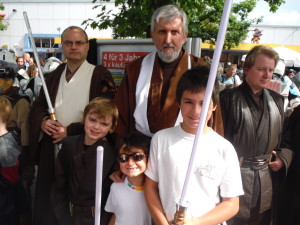 First, we arrived and were immediately engulfed in the crowd. My first thought was "Malaysia's Legoland had way less crowds!" Then we saw that the crowds were taking pictures of all the Star Wars guys. Mainly they were from the movie 4, 5, and 6 (the movies they made first.) They had every figure you can imagine. One Jedi looked exactly like Obiwan in the 4th movie. Another Jedi looked like Obiwan's mentor Qui-Gon Jinn. We took photos with both. Later at 3:30, there was a parade of all the Star Wars guys. My mom and dad said it was because today was Star Wars Day at the park.
Before the parade, we walked over to the castle themed part of Legoland. There we boarded the Fire Dragon ride. Luckily, my awesome mom purchased these special passes that let us reserve a spot in line and then zoom past the long lines to the front when it was time. The Fire Dragon is amazing, yet very scary. First, we went through this tunnel with people made out of Legos: sword-fighting, chasing mice, eating and even guarding gold made out of Legos.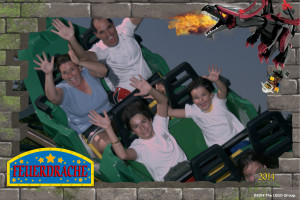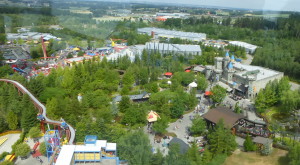 After that, we started getting hot. We decided to head to the raft via the observation tower. We went up the observation tower and saw the raft ride, the Fire dragon, and the edge of the park. We then headed towards the raft ride, as we knew we'd get cooled off. We got on the ride and the boat started to climb. We first went backwards down into the water. We were soaked! Then, we went up for the final drop. Up, up, up, up, up…. Then down like 100 feet with a huge, drenching splash.
We then booked Project X, a very fun stomach losing ride. While we waited for it to be available we had lunch. I munched a waffle with strawberries for lunch! Next, we noticed Project X was ready. We walked through Miniland where all these famous buildings in Europe were set up out of Legos. We arrived at the ride, climbed on to our seats, and buckled up. First we went up 100 feet or so. Then we turned and dropped 100 feet down and momentum carried us back up. Then we zigzagged back and forth. Then we plummeted down again and stopped at the end.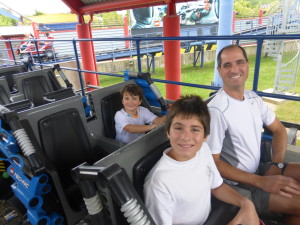 Our mom and dad said we could each spend 30 euro on Legos so my brother and I put our money together and got a Lego Castle set. It is very big and will be hard to carry with us.
Our visit to Legoland was amazing and I would do it again in a heartbeat. But then again, I'm not the one paying for it.