Today, I let my two boys climb several hundred feet in the air above Thailand's jungle canopy and told them they could jump.   As a matter of fact, Nathan and I followed them off.    What a rush!
No, it wasn't some sort of family suicide.   We spent our Thanksgiving today ziplining!   Incredible!   A tour through Flight of the Gibbons, we drove an hour outside of Chiang Mai, high up into the mountainous jungle.  This area is actually a very special area of extreme biodiversity and Flight of the Gibbon is doing their best to give back in terms of gibbon conservation, wildlife protection, and rainforest conservation.  It is an amazingly beautiful area, and we got to fly high above it.
First, we hiked up a seven tiered waterfall.  It was a tall climb but was perfect because I was so focused on watching my step that I forgot to focus on being nervous about the ziplining heights.   It was beautiful, and if it weren't for the bamboo and banana trees, the beautiful waterfall and streams would have felt like Oregon in the summer. 
Then, it was time to head up to the top of the zipline area.  We geared up at the main office and drove to the starting point.  First was safety instruction.   Flight of the Gibbon is serious about their safety.  Not only did they make sure we knew all the rules, but our guides, called Sky Rangers, sure followed them – not only for the clients but for themselves.   We all had two attached harnesses, and we were always attached by one or both at any given time. 
Our first two runs were short.  Way high up above trees, but short enough to get the gist of it.   We had a group of nine of us and two Sky Rangers.  (A big thanks to our fearless team from Salt Lake City – Brett, Aly, Adam, Billy and Jon for sharing a fun Thanksgiving Day with us.)   The third line was 300 meters.  Yikes!  We could barely see the other side.   The kids and hubby of course were having a ball.   Me?  I was barely breathing through the screams.  
After the 300 meter line, we had to hike about 15-20 minutes to a mountaintop where a gibbon family is living.  We stayed well away but were close enough to see daddy, mommy and a baby gibbon.  So sweet to see them in their natural habitat!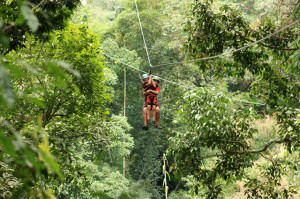 Then, we got to see the next zipline….  800 meters long!  Wowza!  Wondering what the heck I had signed up for, I watched my children head out together, off above the canopies, smiling and laughing together.   If they aren't well bonded after days like today, I give up.  LOL!  (Most of the time they were allowed to go separately, but on certain ziplines the Sky Rangers wanted more weight so the kids went tandem.)   At 800 meters, we truly couldn't see the other end.  The Sky Rangers at each end used walkie talkies to signal the safe arrival of each person.   As long and scary as this flight felt, it really was magnificent.  When not focused on the launch or the landing, you really can enjoy the view.   Personally, I tried to concentrate on looking OUT, not DOWN, during these times, but the lush green vegetation was endless.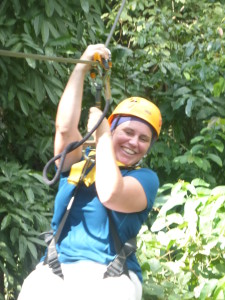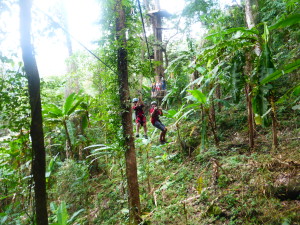 These runs continued and continued.Flight of the Gibbons in Chiang Mai has 33 platforms and over 5 kilometers of zipline.  There are also 2 suspended sky bridges to cross and a couple spots where we were reppelled down vertical drops of 45 to 150 feet.   The course just kept on coming.  For three whole hours, we were soaring over Thailand's jungle canopies. 
It was by far one of the craziest things I have ever done.   More than once I started humming that song by Kelly Clarkson "What Doesn't Kill You Makes You Stronger."  It was exhilarating, scary and challenging, but I wouldn't have missed it.