This morning, Lorenzo and I set our alarm at 5:30am to get up and feed the monks.  The roosters were just starting to crow when we left our inn and headed out to the main street.
Every morning in Luang Prabang, monks walk in procession around the town accepting roadside offerings of sticky rice, fruit, and other food from their followers.   This ritual, called Tak Bat, is significantly colorful and spiritual partly due to the sheer number of monks.  With more than 33 temples in the immediate vicinity, Luang Prabang's monk procession is quite large.  More than 200 monks file through the town accepting offerings in their bright vermillion robes and bare feet.
Locals wake early to prepare food for the monks and wait quietly on the roadside to give their alms.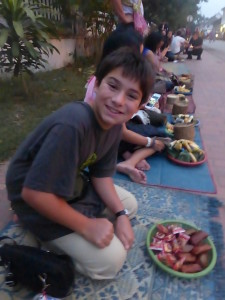 Still pre-dawn, we bought some food from a vendor and sat down on a straw mat on the sidewalk.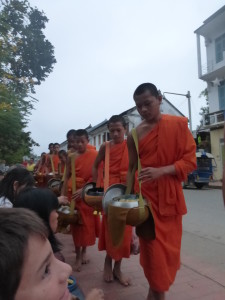 Within moments, the procession started.  The Buddhist Monks lined up, stopping in front of us and accepting our alms offering with a bow of the head.  We continuing filling baskets until slowly the alms ran dry and the procession dwindled down. The tourists started filling out, cameras were put away, and the town became quiet once again.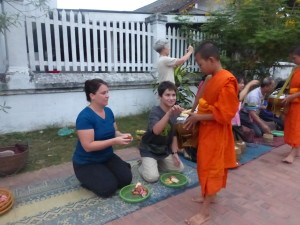 I think Lorenzo humored his mom with the 5:30 wake-up but, in the end, said he was glad he attended.  I am glad I did too.  The sacred ritual of Tak Bat in Luang Prabang was worth getting up for.