We planned our route in Europe to be in Dresden Germany to spend the week visiting my great aunt for the week of her 85th birthday. We had a lovely week exploring all that Dresden had to offer, including many landmarks. Dresden is a special place to my family since my mom was born in Dresden in 1945 during the night of the worst firebombing in history.  Within two nights, the Allied forces destroyed over 1,600 acres in the city with a death toll of almost 25,000.
Shortly after, her family emigrated to the U.S.  For many years hence, contact was lost with family in the eastern block. In 1989, with the fall of the Berlin wall, the family was re-united.  We have sinse visited many times to see this important part of my family's history, and it was wonderful to share these stories with the boys.
Here are some highlights of the newly rebuilt city of Dresden.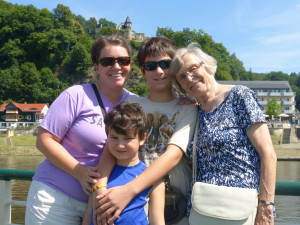 An energetic lady, she was a tireless tour guide and had a blast playing with the kids.  We had a lovely week catching up with each other, talking, laughing and taking in sights.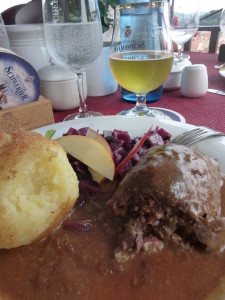 Looking back, it is hard to remember how we accomplished it all considering neither of us speaks a word of each others' language.
What a joyful week it was!