Today we decided to bite the bullet and rent a vehicle to explore Koh Phangan, Thailand.  As you may remember from our time in Vietnam, Cambodia, and other Southeast Asian countries we have been in, the ubiquitous "scooter" is the transportation of the people. 
(Not to mention of the dogs, birds, pigs going to market, baby, Grandma….. )  Anything with two wheels, no matter how small of engine, qualifies here.  Helmets – maybe, lights – optional, driver's license?  Ha ha ha. We have seen families of five all on a one family scooter 125cc, the baby in between the dad, who is driving, and the mom, the oldest kid behind her, and the toddler standing in front of the driver.  Can you imagine all four Spaccarellis doing this? Neither could we, so we rented an ancient Suzuki 4X4 for the day (at about ten times the daily rate of a scooter).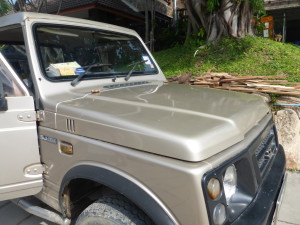 Koh Phangan, is a small island in southern Thailand, that is about ten kilometers long and eight kilometers wide.  It is rather mountainous and has many roads with over 25% grades, very, very steep; first gear only, maybe not even that. These come in both unpaved and paved varieties with and without rain washed out ruts that were over a foot deep.  This means it takes about 40 minutes to go ten kilometers on the one good road. 
To add a somewhat of a challenge for me, they also drive on the wrong side of the road!
So for my first time driving in over three months we decided to go to a waterfall, the Than Sadej Falls, on the exact opposite side of the island.  Looking at the map, no problem…..there were lines to these places after all.
First off, our car rental place collects my passport as insurance for the car. Then gets out a map and proceeds to cross off what seems like half the lines of the map as we can't go there.  Too steep, rain washed out, (it had rained two days before). Other lines on the map he crossed out saying, only a scooter path, only a cow path, only a gecko path…
I eventually decided it would be better just to have him OK the places we wanted to go.  Than Sadej Falls is usually ok he says but, there is construction along that road and because of the recent rains he is unsure.  He shows me pictures on his phone of muddy tracks through the mountains. Despite this we decide to try anyway. I figure we can take a look at it and turn back if it is no good.
After driving first to the gas station (stay to the left!) to buy gas (since it comes EMPTY!), we drive into a small town (Left!), go through a round-about (Left and backwards!) and head left! No roads on the map are marked with names, of course, only business landmarks, restaurants, 7-11s, largest tree, twin coconut tree, etc. We find our way to the correct road and head up.And I mean up, second gear most of the way grinding down to first when it got too steep and I did not have enough momentum. Luckily just after one of the many pickup truck taxis full of eight half-naked French guys and one woman (drinking beer in the back) passed me, we got to the start of the construction, and they just kept on going.  I figured that if the party truck in front of me had a native Thai driver and they could make it, I could at least be an observer and learn what not to do.   The cement road stopped and turned into graded red sand road for the next few kilometers with several one way sections and even a  place where an excavator lifted red soil right over us (the boys liked that). But all in all, the road firm enough and slow enough that I did not need to use the 4 wheel drive function.
As we got to the turn off for the falls the naked truck in front of us turned off as well.  This road was dirt and a lot worse for wear.  It had deep ruts, and we spent a lot of time weaving back and forth slowly in first gear trying not to get stuck in one of the rain-washed ruts. All of us were entertained by the guy with the mohawk in the back of the naked truck that needed a fresh beer but did not have a bottle opener.  He bounced around in the back trying to knock off the cap, first on his seat, then the side of the truck, and when finally using his teeth he got it off, and we all cheered! About ten minutes later they pulled over as the road got worse and headed steeply downhill.  I decided to go on a little farther to park lower down the falls.
The Than Sadej falls is really a series of cascades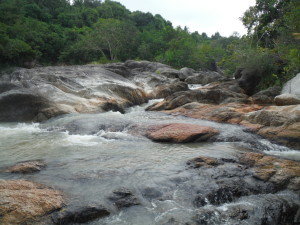 with some smaller pools and good rock scrambling up and down.  It is famous because several former Thai Kings Rama V, VII and IX all liked to come to these falls and even carved their initials into the huge boulders in a few spots along the cascades. Royal Graffiti?
It was quite nice with some hiking through the falls and a pool deep enough to swim and to cool off in at the end.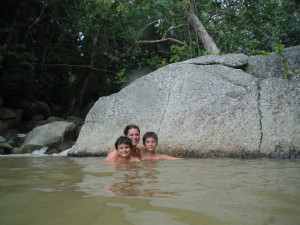 After a fun afternoon, ten feet from the car disaster struck! With only a few feet to climb up to the road, I was digging in my pack for the car keys and I slipped. I went down hard and took six inches of skin off of my shin.  It swelled alarmingly and Kathrin insisted we stop by a clinic, of which there are a lot of on this party island.  After we drove back through all of the construction my navigator found a small clinic where the very nice nurse agreed to spill what felt like acid in my wounds and rub it around what felt for a few hours to clean it.  She then bandaged me all up to receive maximum sympathy (think mummy leg).  As we checked out she sold us some more antiseptic to use twice a day.  No swimming for a few days (I am sad about this and will hold off as long as possible, on a beach, on a tropical island). She then charged is a whole 150 THB which is only $5.00! A great doctor experience to go along with Lorenzo's Vietnam doctor's visit.