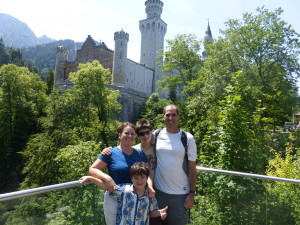 We had a lovely day at Neuschwanstein Castle today. I have always admired the castle and even tried to work it in to several different visits to Europe but it hasn't happened. Until today. This trip, we actually scheduled a five day stop in southern Germany to hit two particular highlights of our family – Legoland Germany and Neuschwanstein.
Before this morning, I didn't actually know too much about the castle. I had seen the images of the majestic castle high up on a mountain top, and I had read that it was recommended to arrive early so we left earlier than normal. We thought we'd spend half a day or so there and then explore the countryside. At least I thought that until I woke up this morning to about a dozen suggestions from online friends – do both castle tours (didn't even know there were two?!),to hike to the bridge, to paddle around on the lake, etc. It was suddenly sounding like a whole day event. When we arrived, my spirits were damped by a considerable wait to even see the first castle. All entries to the castle must be on a guided tour and, upon arrival we learned the first available tour didn't even begin for two more hours. As it turned out, the delay was welcome as the two castles are spread out with climbs up to each one.
We started at the older castle, with a story of Ludwig II and his younger years living at the Hohenschwangau Castle, the castle his father had restored alongside Swan Lake (Schwansee). Ludwig II was the fourth in a line of Bavarian Kings. A few days ago, we toured Nymphenburg Castle in Munich and saw the room Ludwig II in which he was born and the home where he was raised. However, during the warm summer months, his family retreated to the beautiful lakeside castle of Hohenschwangau.  Here Ludwig II spent his summer days playing alongside the lake and exploring the countryside.
At 18 1/2, upon the death of his father, Ludwig was enthroned. Following only two years of rule, Bavaria lost a war and was absorbed into German rule, and King Ludwig II was no longer a sovereign ruler. Despite this, Ludwig II always thought the throne should have more power than it did. It became an obsession for an already eccentric king. Even without any real clout he began creating his own kingdom, continuing to live like a king, spending extravagantly and commissioning lavish castles. He employed many servants to keep him living in this style, even demanding that each meal should have eight courses.
At the age of 15, he met the composer Richard Wagner and became smitten with his music. One of the first acts of his reign was to summon Wagner to his court. It became the beginning of a very close relationship between the two men. King Ludwig II was so devoted to Wagner that it is said that without Ludwig's financial support, Wagner would probably never have completed his later operas.   Although he never married, Ludwig II was once engaged to Duchess Sophie Charlotte of Bavaria but it is said that he broke off the engagement after seven months because his fiancé was not as infatuated with the music of Richard Wagner as the king himself. King Ludwig had such a friendship with Wagner, that he even added a guest chamber in the old castle for his friend's visits to the castle.
The castles themselves both stand on dual hills. As we made our way up to the top of the first, we were glad to have plenty of time for climbing breaks and picture taking over the lake. The garden at the top around the castle was beautiful designed, and we enjoyed a rest at the top before our tour began. It took us through many rooms; the kitchen, the king's bedroom (complete with murals of nymphs), the queens bedroom (with a direct door to the kings). In one room, Ludwig had, at the end of his reign, even set up a telescope looking out toward the other mountain, so he could keep an eye on the construction of his new castle.
After this tour, we climbed back down the mountain and back up the other side to the much higher second castle. We could have taken the tour bus, but we all decided it would be more fun to walk up to Neuschwanstein castle so we could take photos along the way. Turns out, it was a wooded path up so we didn't see too much of the castle, until suddenly, we rounded a corner and there it was!  What a beauty. It is no wonder that Walt Disney is said to have used Ludwig II's Neuschwanstein as inspiration for Disney's iconic fairy tale castle.
All his life, King Ludwig II longed for a time of dictatorship where kings had absolutely power. He built his majestic castle of Neuschwanstein in the style of the Middle Ages. It was an extremely modern castle dramatically constructed in the style of medieval knights. Using all the royal revenues (not state money), King Ludwig spent an enormous amount on this opulent castle, both on its design and the construction. A very modern building for its time, it had running spring water into the king's vanity sink. It even has a complex central heating system where fires were stoked on the ground level to keep the king at a comfortable 20 degrees Celsius in his 4th story chambers. In addition to the building of the new castle of Neuschwanstein (which he never saw finished), King Ludwig II also build many other castles in the area. All of them were elegantly built and decorated but none as opulent as his grand baby of Neuschwanstein.
From Neuschwanstein castle, we added an extra hike over to a large bridge spanning the gorge behind it. Marie's Bridge (named by Ludwig II after his mother) offers the most amazing photos of the castle. Magnificent!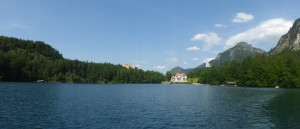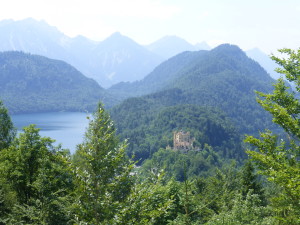 After a beautiful and much easier forested walk downhill, we took the advice of friends and headed to the lake for a paddleboat ride. A bit kitschy perhaps but a cool and relaxing way to see the views of the castles, especially if you have strong young children to paddle you around on it. With a refreshing swim, we ended a very full and lovely day.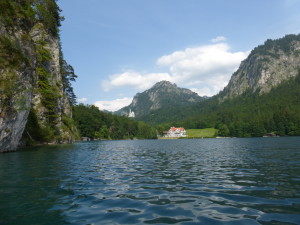 A big thanks to all our Facebook followers for all of your great ideas. We had a fantastic day!