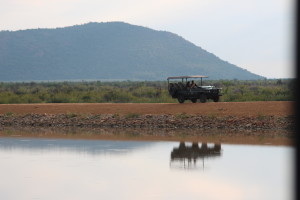 Going on a safari is a fantastic experience, from the bumps, bangs, and bonks and the broken tree limbs in your wake, to the majestically amazing yet scary lion 20 feet (6.5 meters) from you. Safaris are a wonderful way to get to know African animals.
On our safari, we saw many animals. Our first sighting was of a herd of impala, nicknamed the "Big Macs" of the savannah because all of the predators eat them all the time and they have a striped M on their behind. Then, we saw the zebra, the other main herbivore. These two are all over. Other main herbivores are wildebeest, giraffe, warthog, and kudu.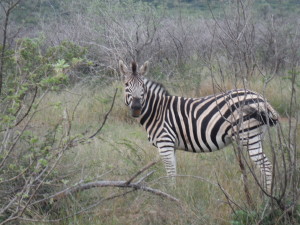 The most illegally hunted and poached animals in Africa are called The Big Five. They are the elephant, the buffalo, the rhino, the lion, and the leopard. The leopard is extremely elusive and there are not a lot of them, so sadly we didn't see one.
But we did see seven lions (one male and later, 6 females.) The male was walking down the road and he scratched a tree. We took photos and in those, he looks like he is climbing the tree! The lion is actually scratching the tree to mark his territory.
Our first encounter with elephants was a little scary. A bull elephant on its own could charge a car and smash it, so it is definitely a force to be reckoned with. So, while riding in the mini-van we drove to the reserve, we saw a bull elephant. He was walking in the road towards us and had definitely noticed us. We were all worried he was going to charge, so we backed up as we took photos of the majestic beast. My family and I then drove past once the elephant started rambling off into the wilderness.
On a safari, you arrive at a reception area while the room is prepared. You drop off your stuff, have a delicious lunch, and then are off in a 4×4. When you come back, a scrumptious dinner is served, and you go to bed so you have some energy for the next morning's game drive. You then get up early, have a snack, and then are off on the dawn game drive. On your return, you have a filling breakfast waiting. You then relax the rest of the morning away: swimming, napping or simply looking at the impalas, monkeys, and kudu. Then you have lunch and head out on the next afternoon drive. On a game drive, you have to bring a camera and I recommend a guidebook to the animals so you can learn facts as you drive. Also it can get windy, so a jacket, sweatshirt, and hat would be wise. If you have any questions, please feel free to leave a reply and ask them.
A safari is an amazing way to encounter African animals in their natural habitat. I strongly recommend making time to do one along your trip to Africa.